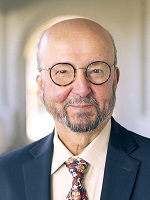 Akbar Montaser is Professor Emeritus, The George Washington University (Washington, DC) where he taught and conducted research for 32 years (1981-2012). He also served as a Program Director in the Division of Materials Research at the National Science Foundation for nine years. He received his BS degree from Shiraz University, Shiraz, Iran, in 1969 and his Ph.D. in 1974 from Michigan State University. As a postdoctoral fellow, he investigated high-temperature plasmas at the US Department of Energy Ames Laboratory located at Iowa State University (ISU) under the late Professor Velmer A. Fassel. He taught and conducted research as the faculty at Sharif University of Technology (Tehran, Iran) from 1975-1979. After the 1979 Revolution, he immigrated to the US. For two years, he was a Research Professor at the Ames Laboratory – ISU before joining the faculty at GWU in 1981.
Montaser is globally acclaimed as one of the top experts in plasma spectrometry for chemical analysis. Several federal and state agencies and instrument manufacturers strongly backed his research for over 30 years. His expertise is centered on fundamental studies, modeling, simulation of plasmas and aerosol systems, plasma and aerosol diagnostics, development of smart plasmas and smart aerosols, instrument design, and the applications of aerospace, mechanical, electrical engineering, theoretical astronomy, and optics to the chemistry and the physics of new plasmas.
Montaser and his team are the authors of over 500 articles and presentations in diverse areas such as chemistry, medical sciences, forensic science, and engineering. He is the co-author/co-editor of six significant books that are famed as the "Bible" of the field. His next comprehensive book in three volumes on plasma mass spectrometry is due for publication in 2018, and 2019, and 2020.
Montaser is an antiwar devotee of human rights, an advocate of nuclear disarmament, and a partisan in the elimination of weapons of mass destruction. Aside from chemistry, he writes on political subjects pertinent to Iran and the United States.